Investigação sobre o uso de
dispositivos móveis
em contextos de trabalho para fins educacionais tem ganho importância nos últimos tempos. No
Reino Unido
há vários anos que este assunto ocupa diferentes equipas de investigadores. Entre outras, destacamos os projectos no âmbito do
MoLeNet
. Também o Ministério da Educação alemão lançou um programa de promoção e apoio a projectos para o desenvolvimento e uso de tecnologias móveis, media digital e serviços em qualificação profissional.
Mobile learning: Crossing boundaries in convergent environments
, Conferência em Bremen, em março de 2011, ou o
Swiss eLearning Conference 2011
na Suiça.
Mais duas publicações sobre mobile learning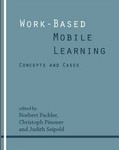 Estas conferências e publicações confirmam esta tendência.
Referências
Pachler, N., Pimmer, C., & Seipold, J. (Eds.). (2011). Work-Based Mobile Learning. Concepts and Cases. Oxford, Bern, Berlin, Bruxelles, Frankfurt am Main, New York, Wien: Peter-Lang.
Pimmer, C., Pachler, N., & Attwell, G. (2010). Towards Work-Based Mobile Learning: What We Can Learn from the Fields of Work-Based Learning and Mobile Learning. International Journal of Mobile and Blended Learning (IJMBL), 2(4), 1-18.